Heya Uniquifiers and welcome back to my blog! ♥
How is it going for you all today? I am actually pretty relaxed today (for the first time in forever!) because I've been getting more sleep lately, and I kinda wanted it to be a productive day! I mean, not that it's worked so far – I woke up pretty late and then stared into space – but hey, it's the thought that counts, right? 😂 Anyways, today's post is going to be packed because I seriously need to catch up. I've been way too busy with homework, and… it's exam season. Again! So… before I start dozing off, let's go! (;
---
The title says 'Life Update,' but I honestly don't know where to start. So much has happened in the space of these past few months. People who I had hoped wouldn't find my blog had found it and written some… not very nice comments. I deleted them and set my blog on private mode so that only I could see it, (which some of you may have noticed) until I realized. You know what? Thanks for all the comments, guys, good and bad. I don't need to go on a super-long hiatus just because of them – they've actually motivated me to carry on with my blog – especially the bad ones. Why should I stop blogging for a few measly comments? I decided that I should use that negative energy from those comments and channel it into something that can actually help me. I mean, I'm on okay terms with those people now, but anyways… So, yeah. Thanks, guys. Mini rant done, and on with the actual post (:
So, reading is like, the most essential part of Summer…or any season… or life 😂 Still, the point is, Summer is the season where people probably read more than they would any other season. Because when it gets hot outside, you step right out into the heat, grab a tall glass of lemonade, play some typical upbeat Summer music on a low-key volume and curl up onto a chair (or beach towel!) in your garden/on the beach/ etc. And then you either sunbathe… Or grab a book! You search your bookshelf, and then something strikes you… You don't have anything to read! Oh my God, guys, this is like, the end of the world! But don't worry! I know exactly how you feel – which is why I've kindly compiled a list of awesome books that I totally think you should read… Now.
---
1)  The Mortal Instruments Series by Cassandra Clare
If you're looking to start a series during Summer break and you're a fan of action, fantasy and romance, then look no further! If you haven't already for some reason, then you've got to read this series! I mean, I've always loved reading YA contemporary novels, things that make you feel good, light reads. I tended to stay far, far away from 'dark' books. So when a friend recommended The Mortal Instruments (TMI) to me, I shook my head, like no way. But then loads more people insisted, and after a few months, I issued the first book, City of Bones, from the library, and a few months later, aka now, I am a HUGE fangirl! Wow! I mean, this series actually has everything in it! Sarcastic humour, romance, loss, action, mystery, magic and basically, 6 books that are nothing if not an emotional roller-coaster. The first book is just the base of the whole story and it sets out the whole story-line, so even I was a little uncertain to move onto the next book, but please do move onto the second book and improve your life immediately. If you read this and enjoy, then try The Dark Artifices or The Infernal Devices – also about Shadowhunters. Yes, the titles may be slightly… off-putting, but trust me, they're amazing!
This series is about a 16 year old (why are they always 16? 😂) girl called Clary Fray who lives a totally normal life in New York City, along with her best friend Simon Lewis and her mother, Jocelyn Fray. However, on her birthday, she goes to a club called Pandemonium where she is the only one who can see something horrifying… From there, she discovers that maybe her 'normal' life isn't as normal as it may seem…
Full of demon hunters, angels, demons, vampires, werewolves, faeries and fancy gay warlocks obsessed with glitter, this series will have you so hooked that you should prepare yourself, because you will not move from your seat all Summer. I'm not even exaggerating here.
---
2) The Dark Artifices by Cassandra Clare
Like I already mentioned, if you liked The Mortal Instruments,you might want to try the Dark Artifices, which continues from TMI but is set 5 years in the future and with different characters. Emma Carstairs and Julian Blackthorn are parabatai. This means that they have a special bond, a bond stronger than best friendship, a bond which means they literally cannot live without each other. Parabatai can fight better together in battles and can heal each other quickly. But, although this may have many good aspects, behind it lurks a dark secret which means that there is one very strict rule for all parabatai in the Shadowhunter world: they can NOT fall in love.
However, this series is all about Emma and Julian and their story, their struggle, to hide their feelings for each other. Honestly, I've read these books ten million times and still never get bored. It's hilarious, emotional, thrilling and so much more, so get to your library right now and read them!
---
3) Seven Days of You by Cecilia Vinesse
Okay, so this one is an absolutely gorgeous whirlwind of a contemporary romance novel, set in Tokyo. 17 year old Sophia has seven days left in Tokyo, her favourite place in the world, before she leaves forever. And at the start of those 7 days, someone comes back to Tokyo… Someone who she had hoped she'd never see again. But by the end of her 7 days, she now feels the complete opposite! This book was so beautifully detailed and written that it made me swoon! I didn't expect to like it as much as I do – I thought it would just be one of those books that you read when you have nothing to read, so it's just there to fill the empty space before you actually find something you really want to read, but I fell in love with this! You should really read it. Seriously.
---
4) The Summer I Turned Pretty by Jenny Han
 This series is written by Jenny Han, the same person who wrote 'To All The Boys I've Loved Before,' which has only recently become popular, along with Jenny, because of the movie that was released on Netflix in August. Being the avid reader that I am, I knew about Jenny Han long before the movie was released 😂 Anyways, this series is about Isabel Conklin who, along with her older brother Steven and her mum, visits Cousins every summer to stay with their long-term family friends – the Fishers: Susannah, Jeremiah and Conrad. Isabel, aka Belly, has known the Fishers for as long as she can remember, and every summer's been the same – trying to catch up with Steven, Jeremiah and Conrad because she's the youngest, and failing each time, always being dismissed as a 'little girl.' But this summer is different – this summer, she's turned pretty, and this summer, Conrad and Jeremiah may have just begun to really notice her… 
A must-read for any reader. I loved it so much I read the whole series 5 times!
---
5) To All The Boys I've Loved Before Series by Jenny Han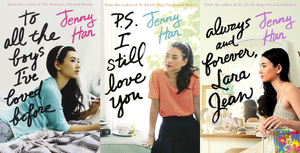 Following on from Jenny Han, ( her books are great for Summer!) here are another series she wrote, which, like I said before, is now a very popular Netflix movie. Like always, the books are better than the movies, and I'm so glad I read the first book before I watched the movie! In case you haven't watched it or heard about it, it's about the story of one clueless girl called Lara Jean Covey, who is helplessly lost in her own dream world. Basically, she's stuck in a bubble and is completely oblivious to her surroundings. 
But, when she crushes, she crushes hard! She's had 5 crushes in total, and every time she feels one coming on, she writes a little love letter to them, but instead of sending them, she keeps them to herself, in a little box she keeps in her room. One day, though, they somehow get sent, and that's where chaos ensues…
---
6) A Very Large Expanse Of Sea by Tahereh Mafi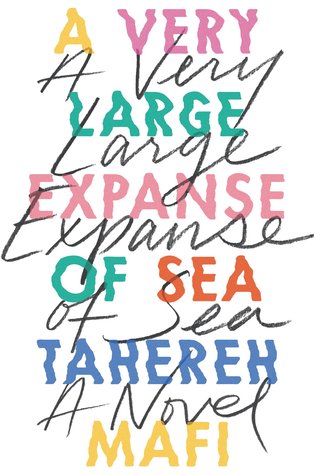 Okay, so I gotta admit that this one isn't exactly very summery, like it isn't summer-focused, but it's a really good book if you like some more serious and realistic topics. Tahereh Mafi is personally one of my favourite authors, and she also wrote a series that you may have read called "Shatter Me."
This book is about an American-Muslim girl called Shirin. Shirin is 16 years old and is constantly put down, stereotyped and bullied for wearing a hijab (headscarf) and being a Muslim, especially since the story is set in 2002, a year after 9/11. So, she just keeps her head down and loses herself in her only escape – break-dancing and music. It's the same pattern everyday, try not to be noticed (although this is very hard considering that she's the only girl wearing a hijab in the whole school) and don't talk, or look, at anyone. No exceptions. Until, one day, someone actually notices her. A boy, called Ocean James. Then, Shirin's world is turned upside down…
A story of self-discovery and acceptance, not gonna lie, you won't be able to put it down!
---
Anddd that's it for now! If you've already read or are thinking about reading one of these books, then let me know in the comments! Also, if you have any good book recommendations, then please also comment because I'm literally lost 😂
I hope I'll get to blogging more often now, because my posts are REALLYYYY irregular, but I swear I'll try! Anyways, thanks for reading and I'll see you next time!
Have an amazing day, and Stay UniquelyYou! ❄️