Ciao Readers! ♥
Back To School… even the words give you the shudders (*insert dramatic shudder*)! But what exactly are we looking for when we say: 'A new start to a new year?' 
Okay, I'mma be honest here,  I'm not exactly the expert when it comes to giving advice – especially if it's to do with school 😅 But I do know that you always gotta be positive! Why? Because if you're not positive, then how the heck are things supposed to stay positive? Speaking of positive, here's a little something to brighten up your day:
Cute, right? I don't know about you, but I'm in LOVE with this cute penguin! 😍 Another thing you need to know when you start school again is that it's a new year! A clean slate to start over, a new season, a new start and a new chance to improve yourself just that little more. Also, don't you just love Autumn? The way the humid air turns completely clean, the colours change into a gorgeous Autumn-y shade and oh – PERFECT for a new school year! 🦋🍁🍂 
Ok, absolutely hating DETESTING all that homework, drama, tests and stress is understandable. But come on… Who DOESN'T love stationery?! I mean, you get all that new stuff and you see your friends after that long break too!
My last piece of advice for you is keep on going! Try and try again, even if things don't work out exactly how you planned. Life is unexpected, and anything can happen at any moment. But you can't just let that stop you from doing what you do! YOU GO GIRL! (Or boy!) 😁
And if things get REALLY serious, then think back to Pengy! (In case you haven't already guessed, Pengy is our adorable little penguin friend 🐧!) In fact here's another Pengy quote, just for your pleasure 😉
Awwww 😍😘😄 Actually, I hope that this quote is an example of how our community will work, not just all you amazing people listening to me rant, but also me listening to all of you rant. I mean, that's only fair, right? Let's hope we can always be there for each other in times of need (although at the moment I don't know if anyone is actually reading this 😂).
Just remember to always be yourself and STAY POSITIVE! And like I mentioned before, things might not always turn out your way, but you gotta struggle on! And the best thing is, we'll always struggle together here on my blog!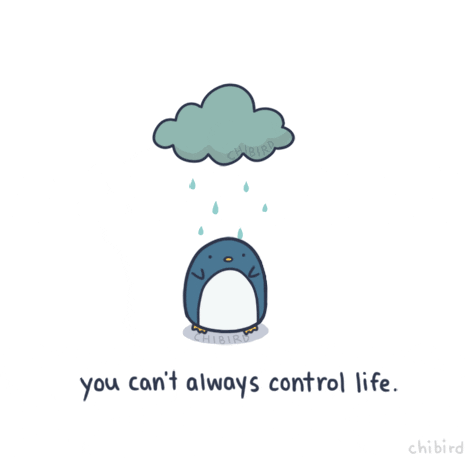 Comment down below if you've ever gone through a really difficult time in your life where it was crucial for you to stay positive and you did! And as always, see you next time chicas!
🌊 Love, WaviGirl x 🌊
BELIEVE ♥ INSPIRE ♥ ACHIEVE